As a spontaneous artist for whom beauty and purpose lie very much in the mind, Rohini Manindra set out in 2008 to thrall the eye, delight the heart, stir the soul and soothe the spirit. Her penchant to celebrate the complexities of feminine powers and oneness with the cosmos complements her zest for positivity in life. Intellectual folks and mythology excite her just as much as she abhors the fickle and the shadow of life.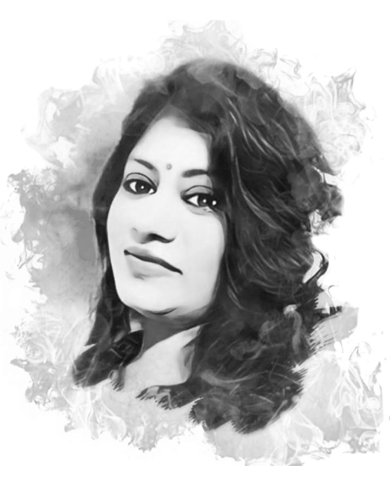 Apart from the usual oil, water and acrylic on canvas, she has shown finesse with murals, clay sculpture, paper Mache and siporex carving. Her portraits manifest attributes unknown to the subject while her mix media and abstracts throw the viewer into trances of meditation. Every color and each hue embody her indefatigable spirit to be happy in all stages of the perplexing strife that is life.

Apart from numerous awards and accolades, Rohini Manindra's name features in The World Book of Records, United Kingdom. Her mesmerizing eyes and lilting voice camouflage her gritty tenacity and never-say-die attitude typical of Indian mothers.