Cheerful colors, bold strokes, and enigmatic emotions characterize the myriad works of Rohini Manindra, an artist from Patna in North-Central India. She is armed with Bachelor's and master's degrees in Fine Arts.

Her penchant to celebrate the complexity of feminine powers and oneness with the cosmos complements her zest for positivity in life.

Apart form acrylic painting, she has shown fineness with murals, sculpture and siporex carving. Several notable publications have recognized and featured her talent. Her painting adorn many homes and offices across India and abroad.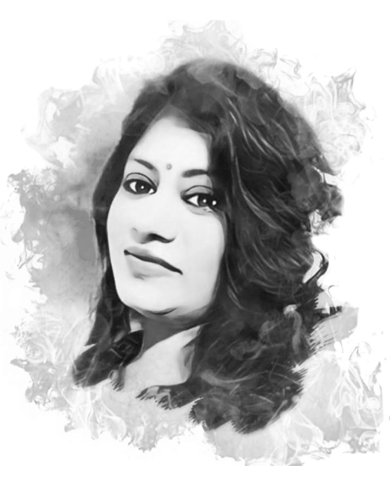 Apart form numerous awards and accolades, Rohini Manindra's name features in, "The World Book of Records, United Kingdom," in both categories- painting and sculpture, and also in "Guinness World Records," as a participant artist. Apart from exhibiting her paintings all over India, her painting have also been exhibited internationally in places including but not limited to United Kingdom, New York and Poland.

Her flair of portraying human emotions with all it's intricacies is extraordinary and praise worthy. Her painting let the viewers re-examinethe the threshold between illusion and reality. Her art is a medium to express dualities of life, they express visions and dreams for the other world.